Welcome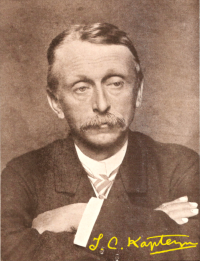 Welcome to the Kapteyn Package!
The Kapteyn Package is a collection of Python modules and applications developed by the computer group of the Kapteyn Astronomical Institute, University of Groningen, The Netherlands. The purpose of the package is to provide tools for the development of astronomical applications with Python.
The package is suitable for both inexperienced and experienced users and developers and documentation is provided for both groups. The documentation also provides in-depth chapters about celestial transformations, spectral translations and non-linear least squares fitting.
The package's most important features:
Documentation
Documentation

Examples

Tutorials

Background information
Get the Kapteyn Package
This unreleased version of the Kapteyn Package is available for download as a distutils-installable package. (tar.gz file. Also available as zip file) For installation instructions see the Introduction chapter or the file INSTALL.txt in the distribution. There is also an archive of older versions of the package.
An experimental installer for Microsoft Windows (together with other packages that the Kapteyn Package depends on) can be found in this directory. Only for Python 2.6 on 32-bit systems.