---
---
---
Amsterdam
Amsterdam, capital of The Netherlands, is one of Europe's famous historic cities. You will notice its liveliness as you wander through the picturesque narrow streets of Amsterdam's centre, the oldest part of the city, criss-crossed by its dreamy canals, lined with some 7000 historic buildings, witnessing the Dutch Golden Age. Amsterdam has 42 museums including the Rijksmuseum, Van Gogh Museum and the Modern Art Museum. It is the home of the world famous Concertgebouw Orchestra, the Dutch National Ballet, the Dutch Dance Theatre and the Dutch Opera. Also, numerous theatres, cinemas, cosy bars, pubs and a wide variety of good restaurants provide ample opportunities for entertainment and recreation for young and old.

There is a variety of websites with information on Amsterdam. To list a few:
Amongst the many cultural attractions of Amsterdam are its museums, several one of world fame. Amsterdam counts 37 major museums, amongst which the Rijksmuseum, Van Gogh Museum, the Anne Frank House, the Rembrandt House museum, the Modern Art Museum (Stedelijk Museum), the Tropenmuseum and the Netherlands Maritime Museum. A very useful website to find your way around is Amsterdam Museum website. The websites for the Rijksmuseum and the Van Gogh museum are to be found at: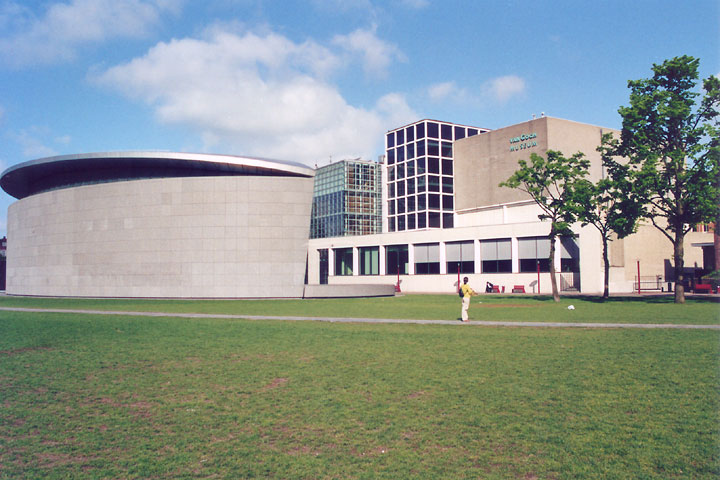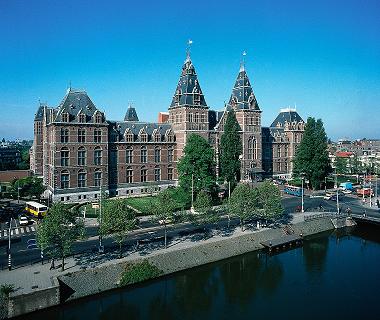 Note that from December 2003 to 2008 the Rijksmuseum Amsterdam will undergo the biggest rebuilding, renovation and modernisation programme in its history. During this period the finest works from the 17th century in the Rijksmuseum will continue to be on view under the title The Masterpieces. Of course this includes Rembrandt's Nachtwacht and Vermeer's Milkmaid and Steet in Delft. The redesigned Philips Wing of the Rijksmuseum will provide an opportunity to see the highlights of the Golden Age together in a one hour tour. The more than 400 masterpieces will be on display in the Philips Wing from 20 December 2003.
---
To Amsterdam from Abroad
- Airport
Schiphol, Amsterdam's International Airport, is located only 15 km from the city centre. Over 8o Scheduled air carriers connect it with more than 220 cities in 95 countries. Schiphol is a modern, accessible one-terminal operation. Information on the airport can be found at the Schiphol website: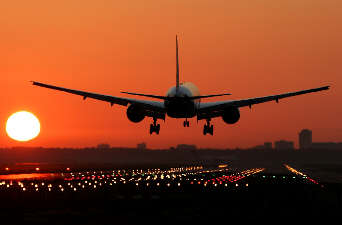 - Train
By rail, Amsterdam is connected with many European cities. Daily, more than 50 international trains enter Amsterdam's Central Station. A High Speed Train connects Amsterdam with Paris and London. Also it is one of the principal stations of the dense Dutch railway network. You can find extensive information (on national and international) train travel from the website of the Netherlands Railways (NS). This includes tailormade timetables. For tickets see train tickets.
Note: By sheer coincidence, just in the weekend preceding the colloquium the Dutch railways will start up an entirely revised train schedule. This is for the first time since the beginning of the 1970s ! Do expect delays and confusion as they try to get accustomed to the new system.
---
From Airport to Amsterdam Centre
- Airport Shuttle
Various major hotels operate shuttle services between airport and hotel. Hotel NH Doelen does have a shuttle service to and from hotel. The KLM shuttle service stops right in front of the Albus Grand hotel.
Airport Shuttles run by Connexxion depart every 10 minutes with service to more than 100 hotels throughout the city. Tickets cost Euro 11 one way, Euro 17.50 for a return, and can be purchased inside the main arrival plaza. Most shuttles leave just in front of the airport arrival plaza/hall railway station.
There are also various other shuttle bus companies operating between the airport and Amsterdam, or any other town in the Netherlands. See eg. Amsterdam Shuttle-Airport and Amsterdam airport shuttle.
- Taxi
To get by taxi from the airport to the centre of Amsterdam will cost at least Euro 40.
- Car
Approach Amsterdam via A2 or A4; take ringroad A10, then exit S116 or S112. Parking is available at Parking Stadhuis, entrance Waterlooplein (underground).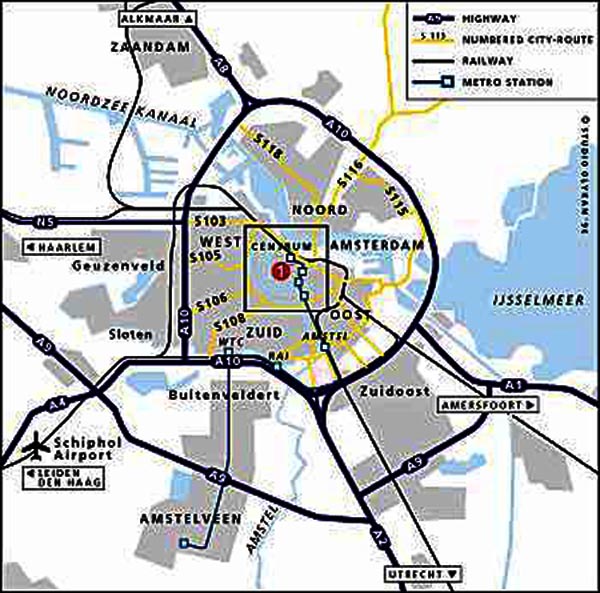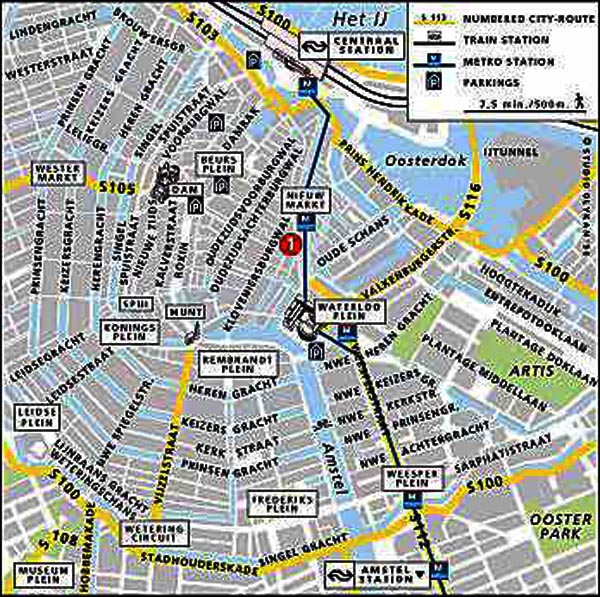 - Train
To get from the airport to the centre of Amsterdam there are a few options. By far the cheapest, and very convenient, is by train. There is a very regular connection (at least once every 10 mins) from the airport to Amsterdam Central Station. The train trip takes around 15-20 mins. The airport railway station is right in the airport terminal building, near the arrival hall.
You can find the appropriate (tailormade) times of travel from the Netherlands Railways (NS) website. For tickets see train tickets.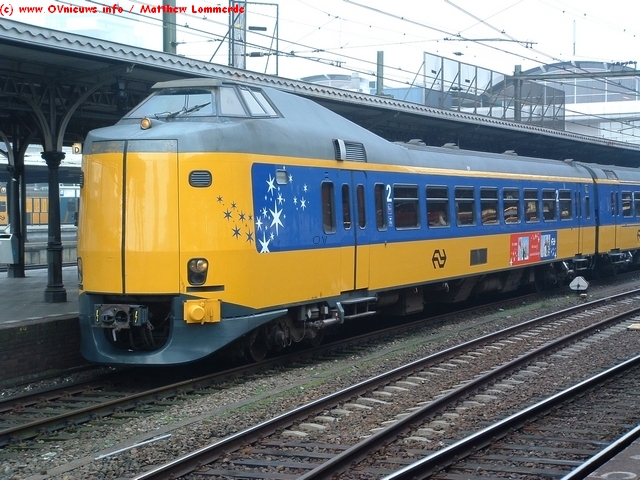 Note: By sheer coincidence, just in the weekend preceding the colloquium the Dutch railways will start up an entirely revised train schedule. This is for the first time since the beginning of the 1970s ! Do expect delays and confusion as they try to get accustomed to the new system.
- Public transport, general
Other means of public transport (bus, tram, metro) abound in Amsterdam. See information on public transport.
---
Getting Around in Amsterdam
- Walking
The central historic part of Amsterdam is small enough for walking. All major sites are within easy walking distance. To prevent frustrations do use a map when you are not familiar with the city, the moonshape geography of the city (see Google satellite map above) implies a considerable divergence between streets that are nearby right in the heart of town. You might end up at a totally different part of town than e.g. the beloved target of Rijksmuseum or Van Gogh Museum ...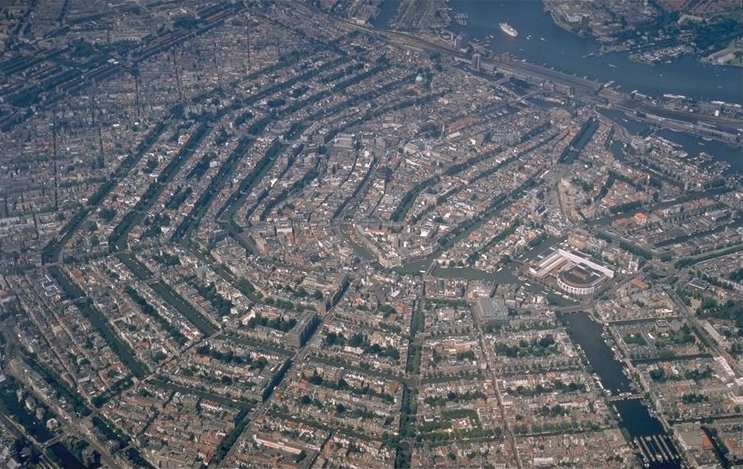 - Biking
Bicycling is a way of life for most Dutch and still the best way to get around. Nearly half of all traffic movements in Amsterdam are by bike. The Dutch are proud of their biking culture and can be seen pedaling rain or shine (although never with a helmet) through the city streets. There are dedicated bike paths throughout the city and few hills to conquer. Cyclists are well respected on the roads, making cycling an efficient as well as healthy and environmentally friendly way to get around.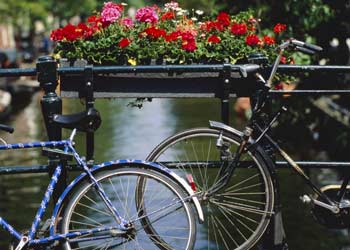 A number of companies offer bicycle rentals for around Euro 8 per day with discounts for longer rentals. Bikes are sturdy and locks are included. Equipment for children and other add-ons are also available. See bike rentals for some bike rental adresses.
- Public transport: tram, bus & metro
To get around in Amsterdam there is a tight network of bus, tram and metro (subway) services. You can find all necessary information on the website of GVB (Amsterdam Public Transport) website. This includes a page with handy public transport maps. For tickets see GVB tickets.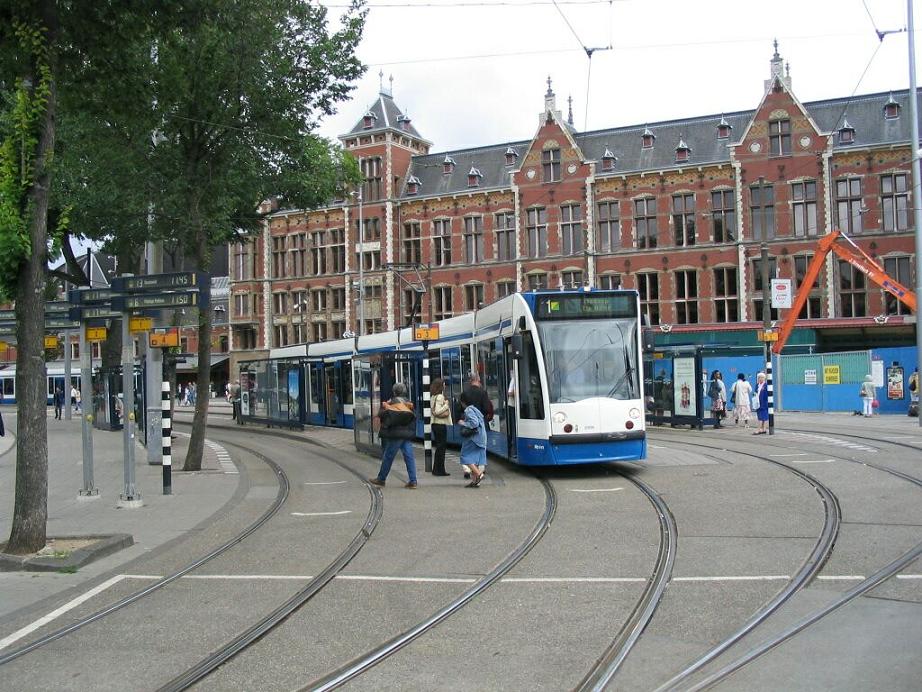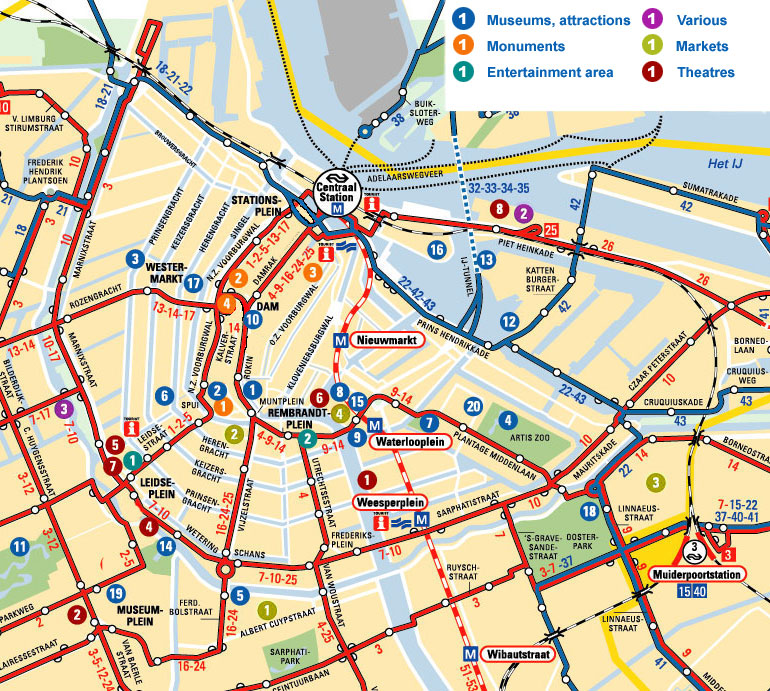 Only 2 minutes away from the hotels there are several tram stops. When going to hotels NH Doelen and Albus Grand hotel it is best to target for tram stop Muntplein. When going from Amsterdam Central Station to stop Muntplein there are the following tram options:

1. tram 4 direction station RAI
2. tram 9 direction Diemen Sniep
3. tram 16 direction VU medisch centrum
4. tram 24 direction Stadionplein
5. tram 25 direction President Kennedylaan

In particular for participants who wish to go directly from Central Railway Station to the Trippenhuis, as well as for the ones who wish to wander around the wider Amsterdam area, the Amsterdam metro may be an interesting alternative. For a map of the Amsterdam metro system see Metro Map. When going to the Trippenhuis From NS Station Amsterdam CS take line 51 (to Westwijk), 54 (to Gein) or 53 (to Gaasperplas). Get off at the first metro station after Central Station, ie. Nieuwmarkt (exit: Nieuwmarkt or Nieuwe Hoogstraat).
- Canal Boats
Perhaps the most fascinating way of going around is that of the Canal Bus. The Canal Bus runs every 40 minutes from 9:50 until 7:25 with 14 stops along three different routes throughout the city. Day passes cost Euro 16 and are valid until 12:00 the next day. A meticulously detailed map of the canal boat route can be found at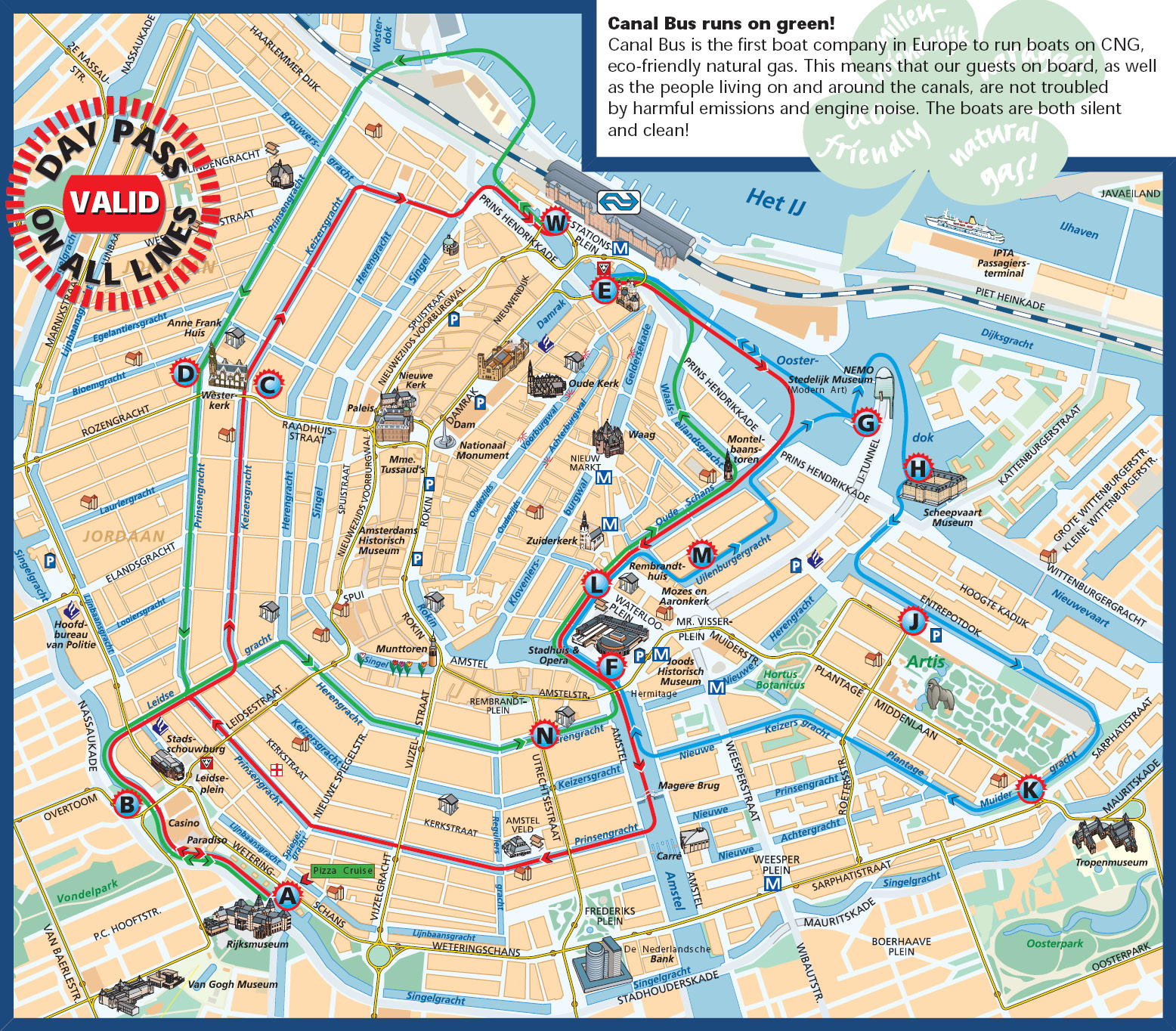 All of Amsterdam's major attractions are on the route and historical commentary is provided along the way. The Museumboot (Museum Boat) is a similar concept for Euro 14.25 per day with stops at Central Station, Prinsengracht, Leidseplein, Herengracht, Muziektheater and the East Dock. Tickets includes half-price entry to most city museums.
For the timetable of the Canal Bus see Timetable. For more information see the website of the Canal Company.
- Taxis
Taxi stands are available at most tourist hubs including Leidseplein, Dam Square and Central Station. Hailing a taxi is quite difficult and virtually impossible on weekends, but cab service is generally prompt if you call ahead (city cab: 0900.677.7777). Rides cost Euro 1.80 per km regardless of the time of day and a 5%-10% tip is expected. For a truly Dutch taxi twist, catch one of the many bicycle taxis around the city. The pedal powered taxis can carry up to two people and are actually cheaper than conventional taxi.
---
Tickets: train, tram, bus & metro
Tickets: train
Tickets: Dutch railway tickets are to be bought at the railway stations, at the counters or from ticket machines. Nearly all tickets, single as well as return, are for one day use only. It is not possible to get tickets valid on several days, with the exception of weekend returns. It is cheaper to buy a return ticket than twice a single ticket ! There are two types, 1st class and 2nd class. If you happen to have a reduction card you can buy tickets at a discount (price 40% less). For casual visitors this is not really relevant (unless you travel large distances).
Important Note: As of October 1, 2005, you absolutely need to have a ticket upon entering a train. One cannot buy a ticket on the train, unless you are prepared to pay a Euro 35 fine !!!! The Dutch railways are very strict in this, there is no mercy for foreign passengers who would not know ... (there is a notorious case of a 90-year old Canadian veteran who helped to liberate the Netherlands in 1944-45 !!!!).
Ticket machines At nearly all main railway stations there is at least one ticket counter (in particular at Schiphol airport railway station). However, the number is dwindling, and the policy is to replace as many counters as possible by ticket machines. Ticket machines are found in abundance at ALL railway stations. At Schiphol even at the luggage collection area, so that you can buy a ticket while waiting for your suitcase.
For a description of the ticket machines visit the corresponding NS website. By now nearly all machines are touchscreen ones, the newest ones are really slick ! The touchscreen ticket machines do accept credit cards (Mastercard) ! The older code machines used be a great nuisance: when not having a Dutch paycard you might end up paying your ticket in coins as it did not even accept banknotes !
For those of you who wish to be feel at ease with these hightech machines before arrival, there is a demo available on NS ticket machine demo (regretfully I did not figure out yet how to channel your "virtual" payment to my bankaccount ... :o))
Tickets: tram, bus & metro
For most public transport in Amsterdam (bus, tram, metro ... not train !!!!) the most generally used ticket is the socalled strip ticket (Strippenkaart), which remains valid the year throughout. Strip tickets of 15 strips are Euro 6,70. Strip tickets with reduced price are available for senior citizens (65 years and up, necessary to take along passport). For an extensive description of the stripticket system see website "GVB strip-ticket"
For short stays of a few days it is probably preferrable to buy one of the season tickets. GVB 24-, 48- and 72-hour passes allow for unlimited travel on all trams, buses, metros and night buses for the duration of the pass and provide the most economical way for visitors to explore the city. Passes can be purchased at one of the GVB Tickets & Info Offices located at all major train stations. In addition, 24-hour passes may be purchased from GVB drivers and conductors, as well as at most major hotels and the tourist office. See the website "GVB-hh-hours ticket" for further information.
One may also consider buying a one-week season ticket, for either 1, 2 or 3 zones, for regular travel within Amsterdam. See the website "GVB season ticket" for further information.
Tickets for public transport are sold at many locations in and around Amsterdam. It is preferrable to buy the strip tickets in advance at post offices (strip tickets and 1-5 star weekly and monthly season tickets), Albert Heijn supermarkets (strip tickets only) and most tobacconists in Amsterdam (strip tickets and 1-3 star weekly and monthly season tickets).
It is usually also possible to buy a ticket on bus and tram. However, this is usually considerably more expensive than advance sale. Also, in particular in rush hour, driver and fellow passengers may react impatiently ...
The strip tickets can be used for multiple journeys, the number of strips to be used depends on the length of the journey. Usually it is 2 or 3 strips for a trip within the centre. Unused parts of a "strippenkaart" can still be used for a next trip. There are machines in each tram, bus and metro train to validate your strip ticket at the beginning of your journey. Count number M of zones you will be travelling in (to be found on map transport system at each stop), stamp on strip M+1 ! Alternatively, you ask bus or tram driver by stating the stop you wish to go to. Usually this is easier
An extensive description on the various aspects of the public transport ticket system can be found on "GVB tickets and fares".
---
Restaurants
Amsterdam has a huge variety of restaurants, nearly all cuisines in the world are represented. While the indigenous Dutch cuisine is usually (unjustifiably) considered as solely suited for home cooking, the Dutch do pride themselves in offering fabulous Indonesian cuisine: "Rijsttafel" may perhaps be considered the most prominent culinary enrichment by the Dutch.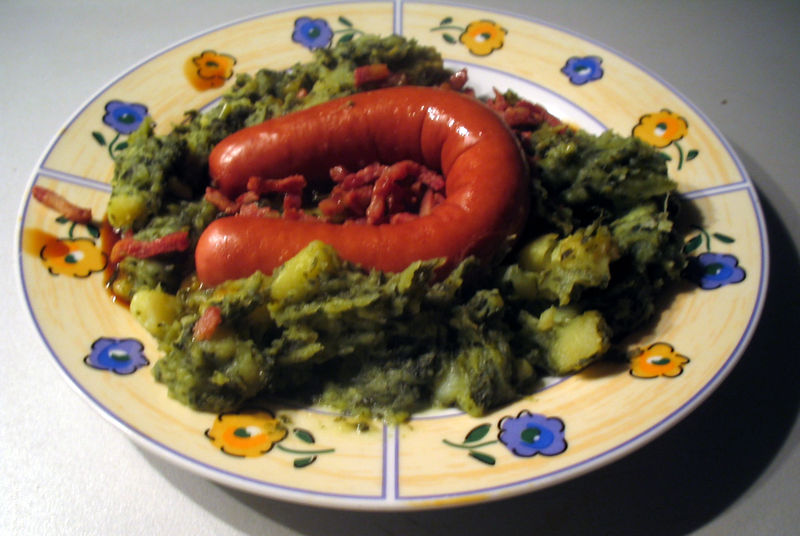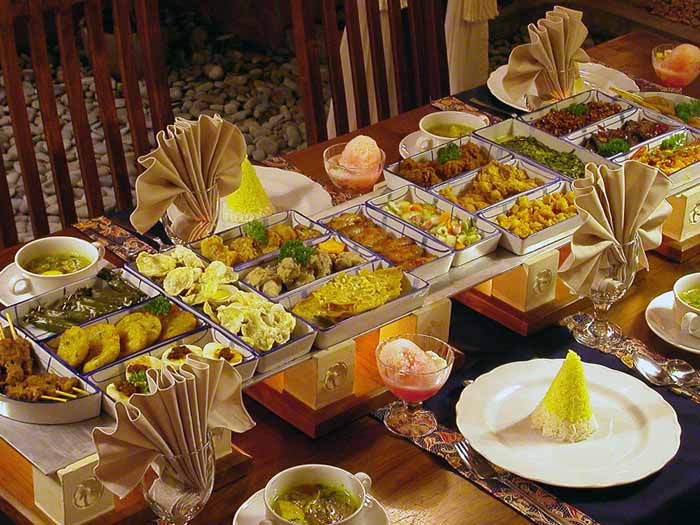 This of course does not include the cheese, raw herring, stroopwafels and kroketten ... !!!

To assist you in selecting a good restaurant, the following sites are useful:

The colloquium dinner, friday night, will be in one of the reputable Indonesian restaurants in Amsterdam, Indrapura (Rembrandtplein 42, Amsterdam)
---
Amsterdam December Weather & Clothing
December is Amsterdam's rainiest months. The weather is consistently inconsistent, so be prepared for rain, even if the sun is out when you start your day. Take umbrella and windproof, waterproof coat. Also take warm clothing: a cold Amsterdam wind can cut right to your skin. Although snow is unlikely in Amsterdam, temperatures hovering around freezing can feel bone-chilling (marine climate).
Temperatures: average high 5.5 C (42 F), average low 0.5 C (33 F). This year the autumn has been remarkably comfortable, and temperatures higher than these averages. Precipitation: average around 84 mm.
Clothing: think sweaters, a hat, a scarf and gloves. Also take comfortable walking shoes, they are a must on Amsterdam's gobbled streets. Waterproof shoes are even better.
---
Warning(s)
While Amsterdam is not a dangerous city, and internationally ranks as a relatively safe city (violent crime is almost absent), it is certainly not an innocent city. Notwithstanding an apparently major aspect of its international reputation this does not always relate to the realm of the more pleasurable trades in Amsterdam !!!! However, as long as you take care of some simple facts chances for problems are slim.
As in nearly all Dutch cities and towns, number one crime is BIKE THEFT, the sole reason why Holland performs reasonable in international crime statistics !
More serious: PICKPOCKETING is rife in certain parts of town !!!! Some groups in Amsterdam society are particularly notorious !!!! Also, do not wander alone at night into areas known for drugs activities, as well as in the Redlight District. Note that this area is very close to the venue of the meeting, right in between the Central Railway Station and the Trippenhuis ! Reason why the preferred walking route is the slight detour via the Dam.
A special warning concerns newly arrived passengers at the airport. The Amsterdam railway stations, certainly the ones near the airport, are known for frequent train theft/pickpocketing ! While travelling by train from the airport to Amsterdam Central Station do not let yourself get distracted by conspicuous "passengers". Sometimes groups are operating, one distracting you, the other rushing off with your laptop ... They only need a few seconds before the train takes off ! However, as long as you take care of your belongings and valuables, particularly your notebook/laptop, nothing can go wrong !